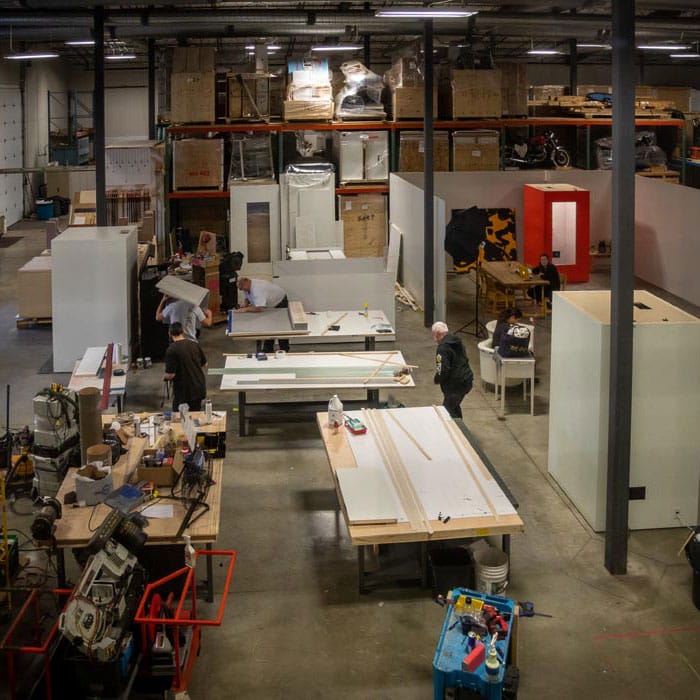 Located in Eastern Ontario, and neighbouring both the province of Quebec and the United States, Kiosk Dimensions is a design firm specializing in the creation of made-to-measure stands, kiosks and pavilions, indoor architecture elements, and commercial, retail and museum spaces – trade shows and exhibitions, showrooms, sales outlets – and in interactive design. Established in 2006, Kiosk Dimensions is well-positioned within the North-American market and also boasts enviable experience in Europe, supported by a network of reliable international partners.
Kiosk Dimensions offers the full range of space management and design services, from A to Z, intervening at each step of each and every project: from conception, to production, to turnkey set-up and installation, to warehousing. Kiosk Dimensions keeps pace with emerging design trends and production techniques and strives to offer clients original and innovative concepts that fit their needs and expectations, while respecting deadlines and specifications. Communication is key.
« Impossible is not part of our vocabulary »
What motivates us is our client, the challenge, a job well done. Flexibility is not an option for us, it is our commitment.
Our team
Sacha Demonsand
The doodler, draughtsman, handyman, designer, welder, production manager, antique motorcycle buff… His studies were varied…cinema, languages, visual arts…at both the University of Ottawa and the Université du Québec à Montréal. His first travels with Canada World Youth shaped him. A rather atypical life experience that serves him well. He loves people, his girlfriend, his family and his dog…and he in turn is loved by all of our clients.
Pascal Demonsand
The artist, the lover of beauty, the one who greets each challenge with a solution. He first studied architecture and then moved on to the fine arts in Paris. He immigrated to Canada in the eighties. He worked for various communications and exhibition agencies, and it is the world of trade fairs and shows that set the pace of his life during those years. In 2006, convinced of the need for a unique quality offering, a top of the line, full-gamut, bespoke service, one-stop shop for clients requiring made-to-measure stands for domestic and foreign markets, he launched Kiosk Dimensions. At about the same time, he opened his very own studio and undertook several arts projects.
Chantal Burelle
The perfectionist…Attention to detail… nothing escapes her. What motivates her: a challenge, new situations, an impossibility that becomes possible…Perhaps the pillar of the business. She is a University of Ottawa graduate in art history and theory and also holds diplomas in events management and accounting. She has been with the company since its inception, anchoring its administration and logistics.
Notice
: ob_end_flush(): Failed to send buffer of zlib output compression (0) in
/home/kioskdimensions/public_html/wp-includes/functions.php
on line
5373